A Guide to Vintage watches
What is a Vintage Watch?
At VintageWatchAgency™ we use the term vintage watch quite freely, meaning a watch which is somehow used, pre-owned, or simply no longer in production but available as supplier's "new old stock".
Why VintageWatchAgency™?
It may seem strange at this time and age, when we are surrounded by computers and mobile phones that can tell us what time it is, but fact is that the interest for high quality vintage watches has hardly ever been bigger.
Then again, even thought the function of time telling may seem superfluous, the intricate mechanism of a fine watch is a thing that will never go out of style!
A high quality watch is a thing of great beauty and at times when the world seems to be spinning faster than ever, it is perhaps the ultimate luxury to simply enjoy the passing of a set of beautiful watch hands over a hand-crafted dial.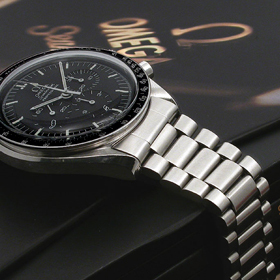 At VintageWatchAgency™ we strive to always offer you the most popular pre-owned watches on the global market, to offer them at great prices and with world-class customer care. By combining the marvels of watch-making perfected over centuries with the almost unlimited potential of worldwide e-retailing, we aim to cater to the discerning collector as well as the enthusiastic first-time watch buyer.
Our selection of vintage watches is carefully hand-picked and photographed in high resolution in at least six different angles to give you an experience which is almost rivaling to seeing the actual object in real life. Furthermore we offer an unsurpassed wealth of information about each object, and are always ready to answer any further questions you may have.
Buying a vintage watch
When purchasing a vintage watch there are naturally a number of aspects to take into consideration. At VintageWatchAgency™ we always perform a thorough quality test to ensure the functionality of each watch, we verify authenticity and provide a detailed description of the condition.
If any after-market modifications are done these are clearly noted in the object description.
As with all high quality engineered objects, original parts are recommended when replacing broken or damaged components, so this is one of the things we take great care in noting.
Though unrelated to the mechanical workings of the watch, we also take a look on the bracelet of the watch. Due to the nature of the material, leather or textile straps will show the wear of its previous history much more clearly than a metal bracelet, but when possible we always keep the original strap with the watch - even if an aftermarket strap is mounted.
Also included whenever possible is original accessories such as storage box, instruction manual, warranty papers, tools, gadgets and extra straps.
Finally, but perhaps most importantly, the authenticity and the previous ownership history is investigated as far back as possible using manufacturer's registry and similar sources. In short, we do our homework and check every watch we sell, allowing you to make the most informed purchase possible!
Various types of vintage and pre-owned watches
Vintage Military watches
A large part of the interest surrounding military watches is centered, naturally enough, on the history of the item. Military watches range from the super-accurate chronographs issued to fighter pilots soaring through the skies, to the dark black, glow-in-the-dark divers watches worn by special force operators working in the cold depths of the oceans. Watches worn by elite military units from the Regia Marina to Top Gun pilots have always generated a huge amount of interest from collectors and the general public alike. The combination of strict functionality, rigorous quality demands and an often exciting aesthetic quality continue to allure us to this day.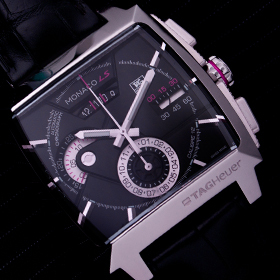 Vintage Pilots and Racing watches
Chronographs have always been a favourite amongst collectors, and a split-second and minute repeater-function will further increase demand. Many pilots watches have oversized dials to enable the wearer to tell the time with a quick glance, and the models dating back to the World Wars often feature an extra long strap to make them possible to wear around the leg or outside a thick leather jacket!
Special functions for racing enthusiasts are for example multi-lap timers and tachometer measuring scale that enables one to calculate speed over a certain distance.
Perhaps the most famous pilots / racing watch is the Omega Speedmaster, immortalised by Neil Armstrong and Buzz Aldrin who wore it on the historical Apollo mission to the moon in 1969. Even though the Speedmaster has been manufactured in thousands of copies, the right model will still command a very high price from collectors.
Vintage divers watches
Vintage Divers watches are very popular, even among those of us who rarely venture beyond the swimming pool! It is impossible to discuss divers watches without mentioning the iconic Rolex Submariner, perhaps the single most recognizable and famous watch in the world. Made famous by James Bond in the 1960's (before he switched to Omega), this is one watch that is guaranteed to never go out of style.
Other popular divers watches are the Omega Seamaster-series, the TAG Heuer Aquaracers and the Breitling Superoceans. There are of course many more vintage divers watches, as almost every manufacturer has one in their line-up.
Other famous models include the IWC "The Deep One", the Rolex Sea Dweller and the Eterna "KonTiki". One interesting detail, specific to divers watches, is the helium escape valve often found on extreme depth divers watches that allows helium (used in diving chambers) to automatically escape the watch when the pressure build-up might otherwise break the glass.
Classical vintage watches
Manufacturers such as Patek Philippe, Audemars Piguet, IWC, Rolex and Vacheron Constantin have consistently been making some of the most sought-after classic vintage watches. These are the watches you'll find on the wrists of industry tycoons, presidents and general high-rollers. They are often thin enough to slip comfortably under the French cuff of a tailor-made shirt, yet sophisticated (and expensive) enough to command a healthy dose of respect at the board meeting. Popular models here include the The Vacheron Constantin Patrimony, the Patek Philippe Calatrava and the Audemars Piguets Royal Oak series. Many of the watches in this category have one or more of the following attributes: highly complex movements, several complications, a classical design and a hefty price tag!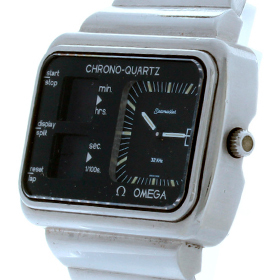 Vintage quartz watches
New technologies have always been coveted by collectors, and quartz movements are no exception. Early production quartz watches are often very popular, especially if they are from a brand such as Rolex which today have no quartz models in their line-up. Considering the recent move from Omega to limit the number of quartz models in their assortment, it is reasonable to assume they will become more and more sought after as availability decreases.
As quartz watches typically are less expensive than their mechanically powered relatives, a quartz-watch from a recognizable brand may just be the perfect point of entry for the starting collector on a budget!
Vintage ladies watches
Vintage ladies watches have become increasingly popular over the past decades. One of the things that distinguish these watches from their men's counterparts is of course size, but also the decoration and style which is often more intricate on a vintage ladies watch. Diamonds and other gem-stones are frequently used instead as index markers or as bezel decorations, and the dial is often fashioned in mother-of-pearl or gold.
Popular manufacturers of ladies watches are Cartier, Patek Philippe and Chopard but there are also more affordable options from brands such as TAG Heuer that are very beautiful in their own right.
Type of movement and complications is generally not a priority with vintage ladies watches, but rather the aesthetic qualities and exclusive materials, as these watches are more often looked upon as pieces of jewelry than time-keepers per se.
Novelty vintage watches
Novelty watches are often equipped with a humorous or equivocal dial image. This may be a cartoon image like the famous Micke Mouse watches from Ingersoll or present day equivalents such as the Perrelet erotic dial rotor watches. One may also consider the extremely colorful and comparatively affordable sports watches from brands such as Swatch or Casio as a type of novelty watches, if they are a part of an otherwise strict wardrobe!.
Digital vintage watches
Digital vintage watches have gained in popularity recently, with the return of retro ideals in design and fashion.
The LED-technology (diode based) behind this type of watch was first introduced at the end of the 1960's and among the first to produce and market them was Swiss-American manufacturer Hamilton whose Pulsar Calculator was worn by James Bond in the 1973 movie "Live And Let Die".
LED was gradually replaced by LCD (liquid crystal display) in the course of the 1970's, with several models from Omega leading the way. These early models are today very sought after!
Glossary
Anti-magnetic protection
A watch where the movement is protected from the disturbing influence of strong magnetic fields. Extremely useful if you for example work near strong electric or magnetic forces - a must if you're working at CERN.
Automatic, self-winding
An automatic or self-winding watch is powered by a mainspring, which is wound up by an attached rotor weight that spins when you move your wrist.
Balance wheel
An oscillating wheel which, along with the mainspring, controls the rate of motion in a mechanical watch movement. Its purpose is similar to that of a pendulum in a traditional wall clock.
Bubble back
A "bubble back" is the semi-spherical back casing, most famously used on certain early Rolex watches. Highly sought after by collectors!
Cabochon
Term describing a gemstone which has been polished rather than faceted, sometimes used as decoration on the crown of a watch. You'll find a cabochon on the crown of Andy Warhol's favourite watch: the Cartier Tank-series, amongst others.
Calendar
A complication that allows the watch to show date, day/date, day/date/month or day/date/month/year. Some movements also take into account the differing length of the months, it is then known as a perpetual calendar.
Complication
A term used to indicate the functions of a watch. Examples of complications: chronograph, minute repeater and moon phase.
Crown
The crown is a button, usually situated at the three o'clock position, which is used for setting time and date and for manually winding the watch. If the crown is a "screw down"-type it can be screwed in place and tightened for water protection purposes.
Chronograph
A chronograph is one of the most common complications, it's essentially a timer enabling the watch to be used as a stopwatch. It was invented in the 1820's and the basic function remains unchanged to this day. Usually it is started, paused and reset using one or two push buttons, certain models also have advanced functions such as two second hands for multiple time-tracking.
Chronometer
Not to be confused with a chronograph, a Chronometer is a watch which has passed the strict quality testing of the C.O.S.C., an independent Swiss quality institute. The watch accuracy must be within certain limits, and a certificate to prove this is issued for every watch which has passed this test.
Guilloche
Guilloche is a dial-pattern, nowadays most commonly stamped but still cut the old-fashioned way by certain high-end manufacturers such as Breguet. An expensive but very, very beautiful craft.
Hand-wound, mechanical
A mechanical watch where the main spring is wound manually by twisting the crown.
Lug
The four parts of the watch case where the bracelet is attached. The distance between these determines the width of the bracelet and is called "lug width".
Luminous hands and index markings
The first watches with luminous hands and markers where introduced during World War I. The obvious reason for this was enabling the wearer to tell the time in the dark, something quite useful in the dark trenches or when under water. At first the luminosity was provided by using radioactive radium paint, but when the health risks associated with this became apparent in the 1950's manufacturers switched to the much safer tritium.


Moon phase
A complication showing the different phases of the moon on the dial.
Minute repeater
A Minute repeater is a complex, highly valued and often quite expensive complication in mechanical watches. It's an ingenious function that tells the time using at least two differently tuned chimes to mark the hours, quarter hours and minutes at the press of a button. Certain models may also be programmed to sound an alarm at a pre-set time.
Power reserve indicator
The power reserve indicator was invented by the great watchmaker Abraham-Louis Breguet to show how much power is left in the mainspring that powers the watch.
Quartz
Battery operated watches are often refered to as quartz watches, the reason being the tiny quartz crystal which provides the accuracy and power of the watch by oscillating at a very high and very predictable frequency.
Ring
The ring, also known as the bezel, holds the glass in position on a watch. If it's a divers watch, it may be turned so as to indicate elapsed time during a dive.
Shock protection
A watch which is shock protected has a movement constructed and secured in order to protect it against physical shocks. This is usually measured (in a testing environment!) by dropping the watch from a height of approximately three feet. In general, mechanical watches are much more sensitive to shock than battery operated quartz watches, due to the high complexity of a mechanical watch movement.
Skeleton Dial
Skeleton dials are a great tradition in watch-decoration and are guaranteed eye-catchers. A skeleton dial is partly or fully cut-away to reveal the very heart of the watch, the inner workings of the movement which is often intricately decorated.
Tourbillon
The Tourbillion complication was invented by Breguet in 1795. The complication was invented when Breguet noticed that the accuracy of his watches changed depending on where in the world he was - a consequence of the miniscule yet noticeable influence of gravity on the watch movement. Breguet solved this by placing the escapement and balance wheel in a rotating cage, spinning 360 degrees continuously and thus negating the natural effect of gravity. Understandably, this function is extremely complicated and remains quite expensive to manufacture to this day. Vintage tourbillion watches are often very sought after and thus quite expensive.
Water protection
Some watches are made to be worn under water and are constructed accordingly. These models often have special cases, extra resistant glass, screw-down crowns and some even feature a helium-escape vale, usable when diving only at extreme depths. The screw-down crown was first patented by Rolex on their Oyster-models but has since been implemented by a large number of manufacturers as the crown remains the most sensitive part of any water-protection. It doesn't matter if the watch is certified for diving down to 1000 meters, if the crown is not secured or if the rubber seals are not intact, water WILL enter the watch even at modest depths.
World Time/GMT
With the increase in transcontinental air- and sea travel in the 1930's came a demand for keeping track of the time over several different time zones, and so the World Time/GMT watch came to be. This is a watch that has the ability to show the time in several time zones at once.